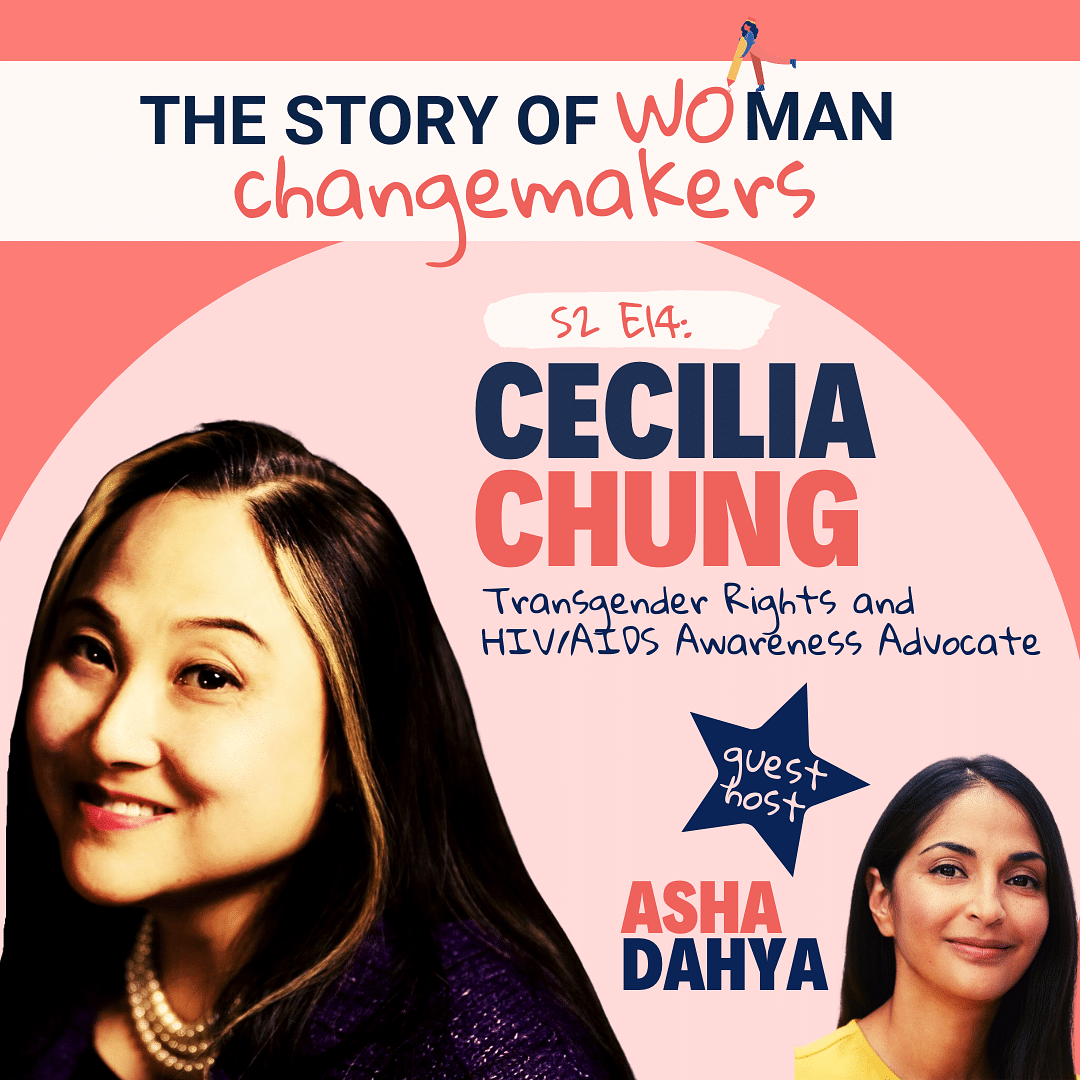 [00:00:00] Section: Podcast introduction
[00:00:00] Overdub: Hello and welcome to season two of The Story of Woman. In today's world, it can feel like change is happening, but only in the wrong direction. While we agree there's still a lot of work to do, we're reframing that story.
[00:00:17] Overdub: I'm your host, Anna Stoecklein and each episode of this season I'll be exploring how women make change happen from those at the top helping to drive it. We'll look at where we are on this long march to equality, what lies ahead, and how important you are in the fight.
[00:00:38] Overdub: This isn't a story of a world that's doomed to oppress women forever. This is a story of an opportunity to grow stronger than ever before. Exactly as womankind has always done.
[00:00:50] Section: Episode level introduction
[00:00:52] Anna Stoecklein: Hello, friends and welcome back. Thanks as ever for being here. In the last [00:01:00] episode, we heard guest host Asha Dahya speak with Alicia Garza about all of her incredible work and about intersectional change. If you haven't listened to that episode with Alicia, the co-creator of the Black Lives Matter movement, go back and have a listen to that one as well.
[00:01:17] Anna Stoecklein: And while you're at it, you can hear more about Asha in the intro to that episode, or there are links in the show notes as well, because this week Asha is back and she's speaking with another incredible woman who lives and works in the intersection.
[00:01:31] Anna Stoecklein: Cecilia Chung, a transgender woman and internationally recognized civil rights leader who advocates for HIV / AIDs awareness, LGBTQ equality and social justice. But I'll let Asha tell you a bit more about her in just a minute.
[00:01:46] Anna Stoecklein: Because now I just wanted to take a minute to thank you so much for being here for this Changemaker series. This is the last one of the season, so if you haven't listened to all the [00:02:00] conversations yet, go back and check them out. The season was all about change and how women make it happen, and we kicked it off with two of some of the greatest change makers of our time, Hillary Clinton and Cherie Blair. And yeah, I'm still pinching myself from that opportunity, which was in person, by the way. So if you haven't watched the conversation, check that out on the website or on YouTube.
[00:02:26] Anna Stoecklein: There's some great behind the scene footage in there as well. And the rest of the season features other extraordinary women driving change, like Afghanistan's youngest ever female mayor, a Noble Peace prize laureate, an Olympic gold medalist, a few founders and CEOs, women at the front lines of the fight against climate change and many more. If you've heard them all, well, feel free to listen again if you'd like or, uh, share with someone that you think might enjoy the conversations
[00:02:58] Anna Stoecklein: After this episode, I'm gonna be [00:03:00] taking a little bit of a break, but don't worry, that's just because I've got some more big plans for The Story of Woman when we return. I'll be back sometime in the fall of this year, 2023, with season three, and you can expect a combination of authors, business leaders, and other women doing the work to add women back into the story of mankind.
[00:03:24] Anna Stoecklein: And after that season, there are even bigger plans in the works. I am just gonna leave you with this annoying cliffhanger for now, but just know that in light of this latest season, which was all about change, The Story of Woman has some big changes itself coming this way. So if that excites you and you want to help me keep the momentum up while I'm busy plotting and creating this next phase, there are a few ways you can help which make a big difference.
[00:03:57] Anna Stoecklein: And you've heard me say it before, but I'm gonna say it [00:04:00] again. Share with a friend, post on socials, follow on socials, leave a rate and review on Apple, Spotify, and all of the places. I know this probably gets repetitive, but honestly, it all makes such a big difference in helping the podcast get discovered.
[00:04:16] Anna Stoecklein: And I'm still a one woman operation, despite the recent successes and guests that I've had the fortune of speaking with. I've had some help from a few extraordinary people who are wanting to contribute to this mission, but I'm mostly out here on my own, uh, trying to create and market this thing. So anything you can do to help me spread the word is fantastic because I know I'm not actually alone out here because I've got all of you out here with me.
[00:04:48] Anna Stoecklein: And that leads me to the last thing I wanted to say, which was that, I know you're out there, so I'd love to hear from you. You all hear from me all the time, uh, and I love to hear from [00:05:00] you, so shoot me a message. Tell me what you like, what you didn't like about the last season, or any ideas you have for the future.
[00:05:08] Anna Stoecklein: Maybe you wanna collaborate. I am super into that, so please get in touch. I've already formed quite a few friendships and collaborations with people who have reached out that way, so don't be shy. You can find my email on the website or you can reach out through socials.
[00:05:26] Anna Stoecklein: Oh and so, you know, I'll be releasing a few episodes of some interviews that I have done recently that give a bit of a behind the scenes look into the podcast, so stay tuned for those.
[00:05:40] Anna Stoecklein: But for now, thank you so, so, so much for being here. And please enjoy this conversation between Asha Dahya and Cecilia Chung.
[00:05:50] Asha Dahya: Every June we celebrate pride month here in the United States. In the UK it is observed in July, and many other countries also hold rallies, events, and [00:06:00] celebrations commemorating how far we have progressed for LGBTQ plus rights globally, but also as a reminder that we still have work to do. When I think of The Story of Woman, I think of the often used phrase, feminism must be intersectional, meaning we must be mindful of the various intersections so many of us inhabit- gender, financial status, age, race, immigration status, and more in our pursuit for equality.
[00:06:27] Asha Dahya: For me, feminism must include transgender women, and right now I believe we are at an inflection point in our global culture where speaking out for trans rights is an imperative. There is no one better to help me do this than Cecilia Chung, who is a pioneer civil rights activist and leader for LGBTQ plus rights, HIV / AIDS awareness, health advocacy, and social justice.
[00:06:52] Asha Dahya: She is a trans woman whose life story I'm honored to share with you through this interview. An immigrant from Hong Kong, [00:07:00] Cecilia has called San Francisco home since 1984. Cecilia has broken ground in a number of ways, including being the first transgender woman and first agent to be elected to the board of directors of the San Francisco Lesbian, Gay, Bisexual, and Transgender Pride Celebration.
[00:07:17] Asha Dahya: She's the first transgender woman and first person living openly with HIV to chair the San Francisco Human Rights Commission, and an architect of the nation's most ambitious, publicly funded program addressing economic justice within the transgender community. In 2004, as a founding producer of Trans March, she helped organize one of the world's largest annual transgender events, which has since been replicated in cities across the US.
[00:07:45] Asha Dahya: In 2005, she became the first deputy director of the Transgender Law Center, where she still works today. And in 2013, she was appointed by President Barack Obama to the Presidential Advisory Council on HIV / [00:08:00] AIDS, and served for eight years. In 2015, with the support of Transgender Law Center at Elton John AIDS Foundation, Cecilia launched Positively Trans, a national network of transgender people living with HIV that focuses on storytelling policy advocacy and leadership development.
[00:08:19] Asha Dahya: Although we've come a long way for trans rights, with data from 2021 recording 77 transgender, non-binary, intersex, and otherwise non cisgender officials serving in public elected positions across the US, 2023 is also a record year for anti-trans legislation. The American Civil Liberties Union, or ACLU, is currently tracking 491 anti-LGBTQ bills, many of which target and attack transgender youth.
[00:08:49] Asha Dahya: Much of the anti-trans rhetoric we see and hear today is driven by fearmongering, misinformation, bigotry, or the need to score political points. And so it was a welcome [00:09:00] opportunity to speak with Cecilia and give listeners a chance to hear from a trans woman leader, an icon, and someone who has been fighting for visibility and inclusion for decades.
[00:09:10] Asha Dahya: I truly hope you'll be enlightened by what Cecilia has to share and understand that when we speak about people as data points or labels, we are taking away their humanity. I am thankful to Cecilia for being so open and candid about her life, and I'm confident that when you hear about the work that she has been doing, you will want to join me as an ally.
[00:09:31] Asha Dahya: Trans rights are human rights, and to me, this is a crescendo moment in the story of woman.
[00:09:37] Section: Episode
[00:09:38] Asha Dahya: Cecilia, I'm thrilled to be in conversation with you today and I feel it is a more urgent time than ever to be talking about the topics that we'll be covering today. But before we dive into your work, I'd love to learn about you, your upbringing in Hong Kong, and what brought you here to the United States in the eighties.
[00:09:54] Cecilia Chung: Oh, well, how much time do you have for my whole story? I was born and raised in Hong [00:10:00] Kong, and I left Hong Kong when I was about 15, and I went to high school in Australia.
[00:10:08] Asha Dahya: Oh.
[00:10:08] Cecilia Chung: And that's why I left Hong Kong. And then by the time I was finishing high school in Australia, my family decide to immigrate to the US. So I went back to Hong Kong, went through the interview at the US Embassy and we moved here. That was in August of 1984, and by the end of 1984, I decided that I need to move up to San Francisco from Southern California because I want to find my friends and my communities and most of them are here in the Bay Area. So that's why I did, and I've been calling San Francisco home ever since.
[00:10:47] Asha Dahya: Oh, that's wonderful. I'm from Australia too. I grew up in Brisbane.
[00:10:50] Asha Dahya: I love that we've got this Australian connection going. That's what really cool. I'd love to know when did you know that you were trans and what was that transition like in Hong Kong and in Australia, like, [00:11:00] tell me about that journey coming out as trans and across all the countries that you lived in, how did that all happen?
[00:11:06] Cecilia Chung: So that didn't come that easily because trans was not part of our vocabulary when I was growing up in Hong Kong. So all I knew was that I was attracted to boys. I liked it when boys kissed me, and it all goes back to when I was four years old in kindergarten.
[00:11:23] Cecilia Chung: But the trans part, which really comes later on when I started to realize that I don't see myself as the gender I was assigned at birth. But I relate more to women, to girls. Most of my friends, my close friends back then were girls, so it wasn't from my own high school, but from the neighbor high school, which is a girl school.
[00:11:46] Cecilia Chung: And it was so funny because I think that if you ask my old schoolmate and some of my buddies from school back then, they would tell you that, oh, we always know. I guess I was the last to found out, and it [00:12:00] wasn't until I moved to the United States when I really get to see others who live freely as themselves in the transgender club, that I realized maybe that was an answer for me too.
[00:12:15] Cecilia Chung: So I started going to the club and I started to present myself in my current gender, and it feels like I finally found my element. So it's really hard to describe because how do you describe to somebody than all of a sudden one day when you do something differently, you discover who your true self is.
[00:12:38] Cecilia Chung: So that's what happened. I discovered my true self, and even though the pain of discriminations and hate is pretty overwhelming, but compared to not living my life as my true self, it's trivial.
[00:12:53] Asha Dahya: And how about your family or your community in Hong Kong? Like, did they know, did you tell your family? What was that process [00:13:00] like, or what was that experience like?
[00:13:01] Cecilia Chung: I'm pretty sure that my mom knows, because I played all these like different characters in Christmas play, including a belly dancer when I was like 11, 12, and my mom helped put makeup on me. And other of my aunts helped to put the clothes together for me. So how could they not know? Right. You know? So that's a funny story. I should ask my mom more, cause that's where I first learned about what kind of shoes and color coordinations and makeup is from watching her.
[00:13:34] Asha Dahya: Oh, I love that. Oh, that's so wonderful. Well, we'll have to, when you do ask your mother eventually, let me know. We'll do a part two. We'll find out.
[00:13:42] Asha Dahya: But back to you. It's not every day that I get to be in the presence of a barrier breaking woman. And you have been breaking ground in so many ways. Most notably, for transgender women and people living with HIV. Your life story inspire the character played by Ms. Ivory Aquino in the mini docudrama [00:14:00] series When We Rise produced by ABC as a trans woman yourself, who has been open about living with HIV, what prompted you to share your story publicly and how has film and TV become a powerful vehicle for storytelling among the trans community?
[00:14:15] Cecilia Chung: That's a great questions, by the way, if I hadn't mentioned it before, it's really not about telling my stories when I started doing this work. You know, like my advocacy has always been because of the life situations that happened to myself, and I needed to find a platform to share that and to hope that nobody else would be in the same situations ever again.
[00:14:41] Cecilia Chung: I started this when I first tested HIV positive back in the early nineties. That's before we had any of the medications. And so every single time I had to do any presentation sharing my stories, it's really about fighting for my own [00:15:00] lives. Unfortunately, a lot of those conditions still hold truth to many trans women in the community today, especially Black trans women. So, I just took that up as my responsibility to find ways to uplift their stories, to give them a platform like somebody did for me so that they can advocate for themselves and get involved with the work.
[00:15:23] Cecilia Chung: In terms of the media and the film and the television, I think that there's two ways to look at it. It's great that our stories are being told on screen, but television is tricky today because there are so many different stations and streaming media. So even though our stories are told somewhere, it does not translate to everyone getting to hear about them, and that continue to be a challenge, especially for the more conservative part of this country that, chances are, they won't get [00:16:00] to see any of these shows like post, like When We Rise. And so I think that we still need to find other strategies to reach those in Middle America.
[00:16:12] Asha Dahya: Yeah, absolutely. And it sounds like you being a storyteller, it's something that was done out of necessity and so now we need to do that through the media. You know, find ways to share these stories to the people that haven't been reached out of necessity so that we can expand these conversations.
[00:16:29] Asha Dahya: And most people are familiar with the AIDS crisis of the 1980s, and San Francisco was right in the center of that in so many ways. In 1994, you were a member of San Francisco's transgender discrimination task force, which documented widespread discrimination against transgender people through a groundbreaking report.
[00:16:48] Asha Dahya: The work of the task force led the city to adopt many pioneering anti-discrimination ordinances and policies. What were some of the biggest misconceptions about the LGBTQ plus [00:17:00] community and what were some of the biggest changes you saw because of the report?
[00:17:04] Cecilia Chung: So, the biggest misconceptions I would say, is to have people realize that LGBTQ is not a monolith community, and in itself is not an identity. You know, it encompass lesbian, gay, bisexual, transgender, and queer community members. You know, just as well, you know, like when we get lumped together, like Asian Pacific Islander is not an identity, you know, like if we call somebody European, that's not really an identity. You know, like we all have different part of the world, the country and the culture we come from.
[00:17:40] Cecilia Chung: So when we lump everybody together, we are overgeneralize who we are. And by doing that we would have a lot of assumptions, such as, you know, LGBTQ, so G might be the same as the T because they both sleep with men and so on and so forth. But [00:18:00] we are different. We just happen to be transgender. And transgender is an adjective more than anything else.
[00:18:06] Cecilia Chung: And gay men, on the other hand, the word gay doesn't mean that they are necessarily happy, you know, with so much oppressions going on. So that's an interesting way to look at it, and I think that we really need people to come forward, share their stories, tell us their struggles, and how they triumph over it.
[00:18:26] Cecilia Chung: I think that the triumphant part is really important. Otherwise, we'll be telling stories about traumas without really celebrating our resilience.
[00:18:36] Asha Dahya: Yeah, absolutely. And the report that I mentioned that you were part of in San Francisco, what were some of the biggest changes that happened because of that? Like did you see a lot of change happen afterward?
[00:18:47] Cecilia Chung: I didn't see a lot of changes right away. It was just a report initially done by the Human Rights Commission. It was later on when one of the elected [00:19:00] legislators for the city of San Francisco, his name is Mark Leno, decide to champion this as a cost and call forward a transgender civil rights implementation task force.
[00:19:13] Cecilia Chung: And it was through that task force that recommendations were being created. And then by year 2001, the San Francisco Board of Supervisors adopted the first policy change, which is to provide trans affirming care to city employees. But that wasn't 2001. It wasn't until 2012 that we adopted a new policy to extend gender affirming cares to the cities and insured.
[00:19:45] Asha Dahya: That is really groundbreaking because today we're still seeing so many attacks and so much pushback on that. So to see that start to be talked about in 2001 and see it takes so long, it's so important that we have these conversations to see that push [00:20:00] forward. And it is 2023 and already in the first few months of this year, we are seeing hundreds of anti-trans being proposed, introduced. Some even pass into laws across the United States. I know there's a lot of happening in the UK as well, and in other countries there's dialogue happening because what happens in the US influences other places.
[00:20:20] Asha Dahya: I know we've seen so much progress for LGBTQ plus rights culturally as well as politically, but the distinct anti-trans rhetoric we're seeing today is shocking and really horrifying. It's definitely being used as a weapon. As someone who has been working to advance the rights of the trans community for decades, how do you feel right now about what we're seeing and how do you stay motivated to continue to advocate for your community?
[00:20:46] Cecilia Chung: Without trying to create too much of an argument here, I definitely feel surprised to see those who were claiming to be religious people trying to encourage families [00:21:00] to not love their own children and even to make it a crime if they show unconditional love to the trans children and provide the care that they need in order to thrive. Cause data has shown that a lot of LGBTQ students have thought of suicide or attempted suicide because of their sexual orientations or gender identity.
[00:21:25] Cecilia Chung: Not because they are afraid of themselves, but because of the bullying that happen in school and the rejection they received from family. So with this data in mind, we are trying to tell the world that will criminalize you if you're trying to support these children. What does it sound like? It sounds like indirectly promoting more harm being done to the community, and that's really disheartening to me. I'm pretty sure that at the end, justice will prevail and we will be able to find [00:22:00] the liberations that we really have been demanding for a long time. We are not trying to commit a crime, but why do you want to make us a crime or people support us a crime? It's really irrational and I think that maybe this is the end of the dark tunnel and we will see the light really, really soon, and I hope that's gonna be the case.
[00:22:22] Asha Dahya: Mm-hmm. I hope so too. It's just really devastating to see, especially with youth, like you mentioned, there's so much impact on their lives and with the bullying in school, but this, it almost feels like political bullying when we see these laws, and so we really need to push back on that for sure.
[00:22:36] Asha Dahya: In 2005, you became the first deputy director of the Transgender Law Center and helped shape the organization's mission and programs. Can you tell us more about the work of the center and how you advocate for the trans community today?
[00:22:49] Cecilia Chung: I have to say that I'm really proud with the Transgender Law Center, and it's so funny you asked me these questions because I became the first deputy [00:23:00] director in 2005. Our staff at that time was two and a half, so two of us and a halftime staff. Now today, Transgender Law Center has grown into a translate organizations that does national organizing and impact litigations work and have more than 40 staff. And so we have grown quite a bit. In some ways, I think it's great to see more support coming from donors and also other foundations, but in some ways we are hoping that we can work ourself out of a job because our mission is for the community to survive and thrive.
[00:23:40] Cecilia Chung: And we not there yet, at all. Like you said, all the things that we have in the US have a effect around the world. So it seems almost like it's another calling for us to continue the work and make sure that we also build solidarity globally with our [00:24:00] brothers and sisters. Across the ocean.
[00:24:03] Asha Dahya: Yeah, absolutely. Well, thank you for the work you're doing. It's very, very important and more relevant now than ever it seems. Let's talk about youth. I know we mentioned that just recently, but trans youth, because they have unfortunately become targets of lawmakers and media commentators. Like you mentioned, in 2002, you joined the board of the Asian Pacific Islander Wellness Center and consulted with them on an innovative mobile HIV testing project for transgender youth. What are the biggest issues facing trans youth today and especially AAPI trans youth?
[00:24:35] Cecilia Chung: So I think that in terms of trans youth themselves, I would say the big issues I've mentioned earlier is the bullying that they are experiencing in schools, and also lack of acceptance and going back home. So imagine that if somebody continue to tell you you are not worth anything on a daily basis, [00:25:00] eventually it's gonna do something to you mentally and spiritually. So I just don't understand why people would do that like I said before.
[00:25:09] Cecilia Chung: But more importantly is we also see a rise in HIV cases among LGBT youth and trans youth also was one of them. I don't have the data in front of me right now, but in terms of their HIV preference rate, it's on the rise, and that's really disturbing for us to see. Here we are trying to have plan and strategize how to end the epidemic, but on the other hand, we're not ending the epidemic of intolerance and discrimination and hate. So that's translates to a lot of work that needs to be done.
[00:25:45] Cecilia Chung: For API trans youth, I would have to say that the condition is slightly better because for us, because we have been so influenced by our own culture as Chinese, as other Asian communities, our [00:26:00] cultures are very conservative. So to really come out to our parents, it's really anxiety provoking. So I think that the difference today is that more youth who are here in the United States feel more comfortable to express themselves differently. And whether they actually are identified as part of the community or not, we are seeing a really beautiful community transforming, and we have new terminologies now because a lot of these children, they're not necessarily identified with one binary gender, and they have different ways to look at themselves and express themselves.
[00:26:43] Cecilia Chung: And finding that freedom to do that is something that I'm really jealous about because I certainly didn't have it. The road is hard, but it seems like our youth find ways to overcome that and continue to demonstrate their [00:27:00] determinations and beauty.
[00:27:01] Asha Dahya: I love that. And just going back to the HIV issue that you said was on the rise, is it a matter of breaking down misconceptions and discrimination as well as more education within the health system that might help those numbers?
[00:27:16] Cecilia Chung: It's threefold. You've mentioned two of them. The other one is legislation changes as well, because in some states you would have to report to your parents if you decide to come out in school as lesbian, gay, or transgender, without really considering the safety of doing so. I think that it's really important for us to really remember that, first of all, if we really want to help these children, we have to do no harm to them.
[00:27:49] Cecilia Chung: No harm to them means that we cannot resolve to things like the conversion therapy or breaking their confidence and sharing this [00:28:00] without their consent with whoever, especially with their family and parents. And I think that there's still a lot of work to be done also in healthcare setting, but it's hard for them to change, you know, like when you have laws that says that we are not letting you provide gender affirming care to these children, and if providers are doing that, you will be committing a felony. That's really a serious threat to the fabric of the society itself. For non-medical folks on the legislations who are trying to dictate how they should be providing medical care to trans children. I don't know if it's even ethical. I hope in the not so far future we will see that these laws will be striked down. I really hope so.
[00:28:48] Asha Dahya: I hope so too. I definitely have faith in Gen Z and the youth with their social media advocacy and TikTok, they're really speaking out, so that definitely gives me hope. But yeah, some of them, I look at some of these politicians, I'm like, [00:29:00] how are you an elected official? But I digress. That's a whole, whole other issue. But a lot of what they do is fear mongering and fear mongering seems to be a tactic of the conservative movement, whether it's bills that seek to legislate which bathrooms transgender folks can use, or the scapegoating of trans athletes and the guise of wanting to protect women's athletics. And let's be honest, they don't care about women's athletics.
[00:29:25] Asha Dahya: Also to the absurd notion of states banning drag performances in public, which is to assume that all drag performers are transgender, which they're not. I mean, just even that basic education isn't there. Amidst this noisy and often dehumanizing landscape, what do you want people to know about the trans community if you have the chance to speak to all of those people, what do you wanna say?
[00:29:47] Cecilia Chung: Oh, wow, I don't know if I have one speech for all of them, but I think that it's really important to let them know that what they're doing is creating more harm. They didn't put in their job to do [00:30:00] harm to the people they represent. They're there to actually pass legislations and laws that would protect the people. So instead they find the most marginalized group and bully the heck out of them. They should not be in office. I would remind them that I'm a voter too. And many of our supporters and also community members vote as well. And please don't discount that. If you see your seat being so important, you should not discount our voice.
[00:30:31] Asha Dahya: And what about the average person, say in the Midwest or anywhere across the country, if they don't know anything about the trans community, but they're hearing a lot of this noise, what would you wanna say to an average person out there about the trans community and and your own life?
[00:30:46] Cecilia Chung: I think that we say that for politicians, they do opposition research, and then I would say that, just do your own research. Don't just listen to what one TV station tells you. Look at all the [00:31:00] research that's been happening, not just from the conservative side, but also from more of the scientific side of the research.
[00:31:08] Cecilia Chung: There's so many different research articles. We can always form a biased opinion if we cherry pick these studies to read or conservative channel to watch. So, just be open for conversations. Otherwise, they'll be preaching to their own choir and we'll be preaching to our own choir and it will just continue to polarize these issues. So what we need to do is to come together and have conversations, and hopefully by doing that they would see that what they are trying to do actually is creating more harm to people they claim to love.
[00:31:44] Asha Dahya: Yeah. And also hearing individual stories like your own, I think is really powerful and humanizing way of bringing it back to the individual as opposed to just a data point or a statistic. We're looking at a fellow human being and to connect in that way I think [00:32:00] is also really powerful. And a few years ago, I interviewed the director of the award-winning documentary, Mama Gloria. Her name is Luchina Fisher, the director, about the late iconic trans woman of color Gloria Allen. Luchina told me that in her community for trans youth to see an elderly trans woman at the age of 76 is a really big deal. And what is most frustrating about the scapegoating and fear mongering narratives that we're seeing today, is that when you actually look at the data, like you mentioned trans women and especially trans women of color are more likely to face discrimination and violence. Can you talk about the harm that trans women of color especially face and the impact of trans visibility?
[00:32:39] Cecilia Chung: I like the fact that we are seeing more resiliency from the trans community, and so we have more elders now. So yes, it's still rare for us to see too many trans women who live to the age of seventies or beyond. But I think because of places [00:33:00] like here in San Francisco, like New York, like Los Angeles, we are really providing necessary care to the community, and we are seeing more longevity for the community.
[00:33:11] Cecilia Chung: But what really needs to happen, I think beyond that, it's really for us to be able to focus on quality of life. Right now, the quality of life is dictated by researchers in very specific categories, but it really didn't tell you about their stressors in their lives. When you are afraid to walk out the street because of who you are, even though you might live longer because you have good healthcare, it means nothing.
[00:33:42] Cecilia Chung: And so I think that we really need to look at everyone as a full person. So what's better way of doing that than to have everyone celebrating the community. And I think that I've read that somewhere on the social media, every day should be [00:34:00] trans day of visibility, not just that one day in a year. And I totally agree with that.
[00:34:06] Cecilia Chung: So we need to be in the light. We need to be living our lives under the sun, and we shouldn't have to hide in the dark.
[00:34:14] Asha Dahya: I love that. That's so powerful. Speaking of social media, I recently watched a compelling video from Alok Vaid-Menon, a gender nonconforming and trans-feminine writer, performer, and media personality. Many people know who they are and Alok's videos often go viral on social media and Alok said in an interview that, "Trans people are not being targeted because we lack, it's because we love. We have the audacity to love parts of ourselves that other people hate in themselves." I just thought that was such a powerful statement and Cecilia, I'd love to hear your thoughts on what it means to unapologetically live an authentic life and perhaps why it's such a threat to other people?
[00:34:55] Cecilia Chung: I love Alok too. They always have all these like brilliant remarks [00:35:00] and then it just like, all these light bulbs in our head like, hey, like why didn't I think of that? It also reminded me of what one of my friends, Laverne Cox, who had mentioned before is that being trans is revolutionary. Being able to love trans people is revolutionary. And the similar situations, I think that that's what people are being threatened because they're not being threatened by who we are, by who they are themselves. If they, heaven forbid, find a trans woman attractive, then it's not us that are panicking. It's them who are panicking because they start having all these anxieties about, oh, what's wrong with me? Why do I like somebody that I'm not supposed to?
[00:35:45] Asha Dahya: Because of the stigma, and..
[00:35:47] Cecilia Chung: Yes, and purely based on stigma, it's nothing else. Even though there might be a lot of things in common between a trans woman and a person who's attracted to them, but that person who's attracted to them afraid [00:36:00] to express that affections because of all these society arbitrary values of like what's deserving and what's not deserving, and this kind punishing mentality needs to stop.
[00:36:13] Cecilia Chung: Like Alok said, loving someone, loving part of ourselves is the beautiful things, you know? That's what self-esteem is built on, isn't it? We need to take pride in ourselves and be able to look in the mirror and appreciate what we are seeing. So being trans is no different.
[00:36:30] Cecilia Chung: After we have our gender affirming procedures, whatever it is, we found happiness in ourselves and we love who we are seeing in the mirror. It's nobody else's business, and I don't know why people get so hung up to the point that they need to get violent over this. So it's really about challenging themselves. What being open really is because we are not threatening the heteronormative community. They can [00:37:00] build all these lies all they want. We've been around forever. People still continue to procreate. The populations growing bigger and bigger and not shrunk into oblivion.
[00:37:11] Asha Dahya: Yeah. It really starts with ourselves and looking within ourselves and what's troubling us. And that self-esteem, like you said, has impacted the world in so many good and bad ways. So yeah, definitely starts with us in that way.
[00:37:23] Asha Dahya: And you know, I was thinking about, when I was writing these questions, that this is a really important question too. It's not just opposition from the conservative movement. There are also those who consider themselves feminists who are anti-trans, often referred to as trans exclusionary radical feminists, often abbreviated with the term TERFs. Some think that the long fought and hard won gains for the women's movement globally, not just in the United States, are being jeopardized by trans activism. But there are also numerous people, especially young feminists of all genders who are adamant that feminism must be inclusive, myself included. Although I'm not [00:38:00] young, I'd like to include myself in that category.
[00:38:02] Cecilia Chung: You are young compared to me.
[00:38:04] Asha Dahya: Well, I'm about to turn 40 this year, so I'm like hanging on by a threat to that youth label, but, can you talk about why the inclusion of trans women in the larger women's rights movement is important, and perhaps what the movement could do better to be inclusive?
[00:38:21] Cecilia Chung: Yeah. I think that to talk about feminism, we have to include people like bell hooks, Sojourner Truth, and to really look at the intersectionality of what it means to carry so many different identities. Looking back, we also see how imperialism, colonialisms, and white supremacy influenced the feminist movement, especially the early part of the feminist movement. But when there are more women of color got involved, that's when things really shift for the better.
[00:38:55] Cecilia Chung: And for us, this is really going back to some of the really [00:39:00] fundamentals of what being feminist means about body autonomy, the right to choose. So those are all the things that the trans community wants as well. Our body, our choice. Why would it be just your body is your choice, but not my body? It doesn't work that way, right? These kind of principles needs to be consistent. Not just because you look at somebody you don't like them and you take back the principle. That's not feminist at all. That's quite anti-feminist actually, in my opinion.
[00:39:32] Asha Dahya: Yeah. What are some ways that the larger feminist movement could be more inclusive? Should we be taking more cues from the younger generation and listening to more trans people more?
[00:39:43] Cecilia Chung: That's definitely part of it, but the bigger part of it is we really need to build more bridges across various movements with the migrants movements, for instance, or the labor movements and also universal healthcare.
[00:39:59] Cecilia Chung: [00:40:00] US is one of the few high income countries that are not providing healthcare to their citizens or to people who are here. So there's a lot that needs to change. Maybe some of that is also about confronting the negatives of capitalism and trying to change it for the better. But if it doesn't work, why not tear it down and build something better?
[00:40:24] Asha Dahya: Yeah, I agree. Let's tear it down and build something better and include trans women as the architects. We need each other, so I love that idea. On a more local level, in San Fran, you accredited as being the architect of the nation's most ambitious, publicly funded program addressing economic injustice within the transgender community. Can you tell us what the program does and how you would encourage other cities and lawmakers to perhaps replicate similar initiatives as a way to push back against these anti-trans bills that we're seeing?
[00:40:55] Cecilia Chung: I need to tell a story of course.
[00:40:57] Asha Dahya: Yes, tell me a story.
[00:40:59] Cecilia Chung: When we first [00:41:00] started doing this work, the LGBT Center here had already started doing job fair, but what they didn't see were trans people attending these job fair. That's how they came to us and ask, you know, like, what can we do to make sure that trans people also attend these job fair? Because they have the intention, but in terms of the delivery, we have to remind them that transgender people don't trust easily. And for us to feel safe, we need to make sure that it's a dedicated space for us.
[00:41:33] Cecilia Chung: So let's try to create a transgender job fair, a standalone transgender job fair, so that employers who are supporting the community can show up. That's the important part. We don't want to apply for a job and later on discover that they don't like us and want to fire us because of who we are. It's really that simple.
[00:41:54] Cecilia Chung: That job fair started to really transform how we look at trans [00:42:00] employment here in the city. And later on I did a survey for the city of San Francisco on the economic health of transgender community, and really found the kind of discriminations they face. And over 50% of them live in poverty and even below the federal poverty line. And a lot of them have to rely on street economy to survive.
[00:42:25] Cecilia Chung: So that speaks to the urgency to create a workforce development program that's tailored to the community. And since we know that if you are building something specific, it would attract community to participate, that's how we started to do all these advocacy with all the different supervisors at the time and asked them to consider setting aside some money to fund this project, and at the end they did. So we secured $300,000 from the [00:43:00] board of supervisors to create a transgender workforce development program. And in addition to that, the one stop shop here in San Francisco also had invited us to go in and partner with them to train all their staffs around transgender issues and how to create a more welcoming environment for transgender people.
[00:43:23] Cecilia Chung: And we did. So that program's been going on now forever, and it has actually transitioned into just a regular job development program for LGBT community, but that trust didn't come overnight. We built on it little step by little step for the last 15, 20 years to get to where it is today.
[00:43:45] Asha Dahya: Yeah. And hearing you speak and hearing more about your story and reading more about your story, it really underscores the importance of having a seat at the table. I mean, you've been able to be in these commissions and be in these organizations and advocating, and I think [00:44:00] that's a really huge part of the story, seeing more trans lawmakers get elected, young trans lawmakers get elected across the country. There are a handful, hopefully that will increase. I think that definitely makes a difference, having a representative from your community advocating. So yeah, thank you for having those seats at many tables. We need that more and more.
[00:44:20] Cecilia Chung: We actually also, when there are no seats for us, we create our own table and invite others to come to our table for these conversations. So in simply, that's actually more effective because what we really want are people who really desire to see the change that happens. Like going to grab a seat at somebody else's table would be one voice amongst many, and we want the opposite. We want to be the majority of the voice so that we could really influence change.
[00:44:54] Asha Dahya: Yes. Agreed. I think that's really wonderful. Well, this podcast is called The Story [00:45:00] of Woman, and it is clear by your own story that we cannot talk about the history of women and the future without including transgender women. And I'd love to know who are some of the groundbreaking trans women who have inspired you throughout your life and who is inspiring you right now?
[00:45:16] Cecilia Chung: There are definitely a lot of trans women, I think that the most well-known will be Sylvia Rivera and Marsha P Johnson, and also Miss Major, who's actually a good friend of mine as well. They really broke a lot of grounds in the sixties, but there are still more that we have not been able to acknowledge, such as the trans communities who started the Gene Compton's Cafeteria riot here in San Francisco, and one of my trans mother, Tamara Ching, I know that if she hears that she's gonna hate it because she doesn't want to really take credit. All she wants is to see all the girls happy. That's what she would tell [00:46:00] you. But for her to be so unapologetically trans and be so audacious means a lot, and it's a great role model, especially for Asian trans women like me, to see, oh, there's another feisty trans woman out there who's been doing this work 20 years before I did.
[00:46:17] Asha Dahya: Yeah. That's wonderful. I love that. And a quick look at any social media newsfeed is enough to make anyone hopeless or anxious about the world. There's a lot of bad news going on, but there are also so many inspiring people whose life work is a testament to why we should never give up, including yourself, Cecilia, I'm so inspired by the work you've been doing for decades and are still doing, it's so important. So I'd like to know what gives you hope for the future for the trans community in America and globally?
[00:46:48] Cecilia Chung: What gives me hope really is to see how our communities are utilizing different social medias to build connections. So that's a [00:47:00] really brilliant way to break isolations and build community. And it's not just building local community, but we are now building a global community that we could all share and discuss issues that are happening in our part of the world and come up with ideas and strategies to resist the kind of oppressions that we are seeing.
[00:47:23] Cecilia Chung: And also to help those who are in even worse situations than we are, such as a lot of the trans community are experiencing that in Sub-Saharan Africa and even in Asia. There's still a lot of transphobia happening and to really help to change that, we need to bring those stories to light. And the best way to do that is through social media, through platforms like Twitter and Facebook that you can repost and retweet. And for the Gen Z, they like platforms like Instagram [00:48:00] and TikTok. And I think that that really helps when more people can speak about the issues, when people can tell part of the stories, or to openly celebrate who they are, it gives joy back to the community, and that's what we need most, especially right now.
[00:48:18] Asha Dahya: You definitely need some more joy, yes, very well said.
[00:48:21] Asha Dahya: Well, Cecilia Chung, thank you so much for your time today. It has been an honor and just a real eye-opening experience, hearing about your story and the work that you're doing, and I'm so thrilled that you are in this space that you're in advocating for so many. So thank you so much for being on the Story of Woman.
[00:48:39] Cecilia Chung: Well, thank you, and it's nice meeting you too, especially someone who's actually from Australia as well. Well, we can talk about that at some other time.
[00:48:48] Asha Dahya: Yes. I'm in the migrant journey. My family are Indian, moved to East Africa, then to England where I was born. Then we migrated to Australia. I moved to the US by myself to [00:49:00] work in media. So Indians and Asians, we like to get all around the globe, which I love.
[00:49:05] Cecilia Chung: Yeah, I love all my Asians friends and I have a lot of friends who are either Filipinos or Indians. So I think that it's kismet. I don't know how else to put it, that brought us together and I really appreciate that.
[00:49:19] Asha Dahya: Yeah, I love it. I love it. I used to be so like ashamed of my identity growing up, and Australia was very white in the nineties, especially in TV and magazines, and so now it's like I wanna see more brown and black and different colored faces as well and on platforms like you have. So it's really wonderful. So thank you so much.
[00:49:40] Overdub: Thanks for listening. If you've enjoyed this episode, and think we need more of women's stories in the world, be sure to share with a friend! And subscribe, rate and review on Apple, Spotify or wherever you listen to help us beat those pesky algorithms.
[00:49:58] Overdub: Follow us [00:50:00] on socials for more content from the episodes and a look behind the scenes.
[00:50:05] Overdub: And for access to bonus content and ad-free listening, consider becoming a Patron of the podcast. This is the best way to help me continue to put out more and better episodes. You can also buy me a metaphorical coffee. All of this goes directly into production costs.
[00:50:24] Overdub: And in exchange, you'll receive my eternal gratitude and good nights sleep knowing you are helping to finally change the story of mankind to the story of humankind.
[00:50:35] Overdub: This episode was produced and hosted by me, Anna Stoecklein.
[00:50:39] Overdub: It was edited by Maddy Searle. With communications support by Jo Cummings.A special thanks to Amanda Brown, Kate York, and Dan Kendall for their ongoing production support and invaluable advising.